2017 Guests: Kaela Edwards, Mac Fleet, & Dan Rizzieri
Stay tuned and come back for updates!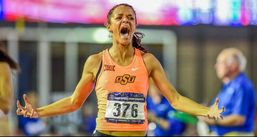 ​
​Kaela Edwards runs professionally for Adidas and was the 2016 NCAA indoor Mile champion and 2015 indoor 800m runner-up and was a 5x All-American while at Oklahoma State University. She just set a new 1500m pr of 4:10.46 racing in Lignano Sabbiadoro, Italy during her first tour of the European racing circuit which also included an 800m win in Letterkenny, Ireland. Kaela's other personal bests are 55.08 in the 400m, 2:01.97 in the 800m, 4:28.75 in the mile, and 17:41.33 in the 5,000.
---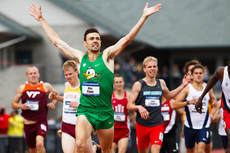 ​ ​Mac Fleet runs professionally for Nike and Xendurance and was the two-time NCAA 1500m champion in 2013 and 2014 and was a 7x All-American while at the
University of Oregon. He also set two school records at UO including an indoor
mile of 3:57.70 which broke Galen Rupp's record. Before college he was a
California state champion in both cross country and the 1600 and won the 1500m
at both the U.S. Junior T&F Championships also the Pan-American Games
Mac has pb's of 1:46.32 in the 800m and 3:38.35 in the 1500m.
---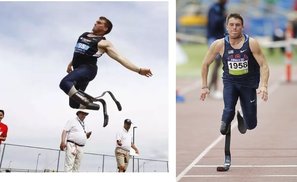 ​
​Dan Rizzieri holds the world record in the long jump (5.99m) in the T43 classification (double below-knee amputation) re-setting it at the at the US Paralympic Trials in 2016. He also holds the American record in the triple jump (13.61m), which he set while competing for Finger Lakes Community College in 2010, breaking a school record in the process. He was a member of Team USA
at two World Para Athletics Championships, competing in New Zealand in 2011 (6th in 400, 7th in LJ) and France in 2013 (6th in 100, 200). Dan's personal
bests in his running events are 11.9 in the 100m, 24.5 in the 200m, and 54.6 in the 400m. He's the head boys track coach at Wayland-Cohocton High School in Wayland, NY.
---
---
Every year we bring the best athletes in the USA to run with, talk to, and spend time with the campers. It is a special experience for both the campers and the athletes. It's a really special occasion when a former BMXC camper is able to come back as a professional runner to spend time with the campers - read below for more info on our past guests and our former campers who made running their career!
---
Previous Guest Olympians and Champions
Molly Huddle
Molly was a counselor for multiple years and was a guest speaker soon after she graduated from a very successful career at the University of Notre Dame. Prior to that in high school she won multiple NY state titles, set the national record in the 2mile (10:01), and was 4th at Footlocker XC. She now runs professionally for Saucony and is one of, if not the, top runner for the US regardless of what event she competes in. Her 5000m pr is 14:42.64 (US Record at the time), she set the US Record in the 10000m at the 2016 Olympics with a time of 30:13.17, and she placed 3rd overall in 2:28:13 at the 2016 NYC Marathon in her debut at the distance. Molly has represented Team USA many times in XC and on the track including being an Olympian in London 2012 and Rio de Janeiro 2016.
---
Former Camper Steve Slattery and Sara Slattery
Steve attended Blue Mountain in high school while he was at Mount Olive High School in New Jersey. In high school he was a 2x Footlocker Finalist and All-American and won the MOC twice in a row. While running for the University of Colorado he was a Big12 conference champion and was runnerup at both NCAAs and USA in the steeplechase. He has a part in the famous book Running with the Buffaloes about the 1998 NCAA cross country season with the Colorado Buffaloes. After college Steve ran for Nike and won a national title at the 2003 USA Outdoor Championships, was a member of Team USA in 2003 and 2005 and was also a member of the world indoor championships team in 2006. Steve recorded the fastest 3k SC time by an American in 2005 and has PRs of 8:15.69 in the 3000m steeplechase, 13:36.03 in the 5000m, and 3:56.75 in the mile!

Sara grew up in Phoenix, Arizona where she was runner up at the Foot Locker Cross Country Championships in 97 and 98, was a member of Team USA at the World Cross Country Championships in 1999, and then won Footlockers in the fall of 1999! She ran in college at the University of Colorado where she won the indoor 5000m and outdoor 10000m national titles and also met her future husband Steve. In 2006 she again represented the US at the World Cross Country Championships and in 2007 Sara won gold at the Pan American Games in Rio de Janeiro in the 10k. Her PBs are 15:08.32 for the 5000m and 31:57.94 for the 10,000m.
---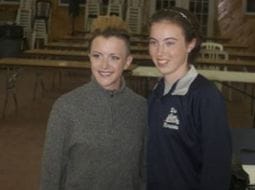 Former Camper Fawn Dorr
Fawn was a camper at BMXC when she was a runner at Akron HS in Western NY and has returned as a guests many times. Sadly in high school after an accident she began passing out during races and experiencing seizures at practice. Doctors struggled to find answers to her condition. Through it all Fawn fought to continue running and training. A fierce competitor, she ran for for SUNY Cortland where she was a D3 national champion, then was an All American and Big10 Conference Champion at Pennsylvania State University, and afterwards ran professionally for Brooks.
---
---
2016 Guests

Reed Connor
Reed C Since early in his career Reed has collected a variety of running accolades and achievements. Reed was named Gatorade National Cross Country Runner of the Year following his individual win at the 2008 Nike Cross National Championships. In addition, Reed set a course record of 15:13:60. Connor's running took him to University of Wisconsin where his success continued with the Badgers. Reed ran his personal best for 10k XC at the 2012 NCAA championships with a 29:31. After college Reed continued his career with the New Jersey-New York Track Club. Reed became a sub4 miler August 12, 2016.
---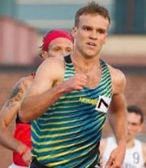 Ford Palmer
Ford competed and graduated from Monmouth University in 2013. He was originally a football player that transitioned to Track and Field. Despite a late beginning to his running career Ford has achieved many accomplishments: in 2014 he finished 5th at the USA Outdoor Track and Field Championships. Ford ran in the 2016 Olympic Trials in the men's 1500m as well. Ford is currently a New Jersey-New York Track Club member and sponsored by Hoka One One, training with legendary Coach Frank Gagliano.
---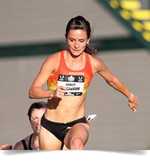 Ashley Higginson
Ashley is a middle distance runner who has competed all over the world. In 2015 Ashley won Gold in the Pan American Games 3000m steeplechase held in Toronto, Ontario. In the same year she was in Costa Rica for the NACAC Championships where she clinched another Gold in the steeplechase. On a more local level, she has competed in the Olympic Trials in Eugene, Oregon twice in the steeplechase and her personal bests are currently 9:27:59 in the 3000m steeple chase and 15:18:53 in the 5000m.
---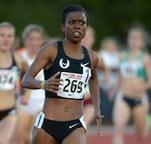 ​ Treniere Moser
Treniere currently trains with the Nike Oregon Project in Portland, Oregon under the tutelage of Alberto Salazar. She is a five-time US outdoor champion in the 1500 meters as well as a one time US indoor champion in the 1500. Treniere ran in the 2005 and 2007 World Championships in Finland and Japan. Her current personal best are: 800 1:59.15, 1500 4:02.85, and 5000 15:11.00.
---
---
2015 Guests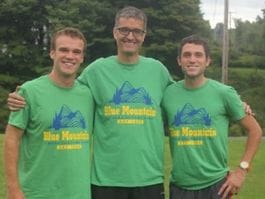 Dorian Ulrey, Ford Palmer, and Travis Mahoney
Dorian was a member of the 2009 USA World Championships team in Germany. Dorian was the Illinois State Champion at 1,600 meters during his junior and senior seasons and de holds the state record in the mile with a time of 4:09. His 1500m pb is 3:35.23.

​Ford first visited BMXC in 2015 and loved it so much that he had to come back again in 2016 (what are the odds?!). You can read more about him above.

Travis holds the 5000m (15:34) and 3200m (9:16) school records for Old Bridge High School in NJ. In
2011 Mahoney was named runner of the year for his first place finish at the A10 Outdoor Championships in the 3k SC. Travis qualified for the U.S. Olympic Trials in the 3000m steeple chase in 2012 and 2016.
---
---
2014 Guests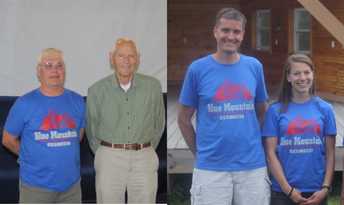 Jack Daniels and Shalaya Kipp
Jack Daniels is one of the world's best known distance running coaches. His most famous work about training philosophies in his book, Daniels' Running Formula. Daniels coached at SUNY Cortland where they won eight NCAA DIII National Championships, 31 individual titles, and garnered 130 All-America awards. His work is used by many high school, college, and professional athletes and coaches.

Shalaya is a 3000m steeplechase runner from Utah who attended the University of Colorado. Shalaya was a 2012 Olympian in London and in 2015 she earned a silver medal at both the Pan American Games and the NACAC Championships. Her personal best in the event is 9:28.72.
---
---
Other Guests (alphabetically)
Donn Cabral - two time Olympian ('12 and '16), NCAA steeplechase record holder, 2012 NCAA steeplechase champion
Amy Rudolph - 2 x Olympian '96 Atlanta and '00 Sydney, 4 x World Champs Team '97 Greece, '99 Spain, '01 Canada, '05 Finland
Mark Carroll - representing Ireland, 2 x World Champs Team '95 Sweden and '99 Spain, pbs of 3:50.62 (mile), 13:03.93 (5k), and 2:10:54 (marathon)
Lindsey Gallo - 4 x State Champion while at Howell HS in NJ, Indoor DMR NCAA champion while at Michigan
Chris Lukezic - US national HS record setting team in the 4x800, represented Team USA at the 2005 World Championships in Helsinki, Finland
Ed Moran - hs pr's of 4:19 and 9:26 while at Notre Dame HS in Lawrence Township, NJ. Lifetime pbs of 13:20.25 for 5k and 2:11:47 for the marathon
Jim Ryun - first US high schooler under 4:00 for the mile, world record holder in the mile, silver medalist in the 1968 Mexico City Olympics
Pat Tarpy - fastest ever half marathoner from his home state of Maine. PBs of 4:01.4 for the mile and 13:38 for 5000
Carrie Tollefson - 2004 Athens Olympian, NCAA XC Champion, USA XC champion, and USA 1500m champion
last on the list is our first ever professional guest...
Todd Williams - 2 x Olympian '92 Barcelona and '96 Atlanta, 2 x World Champs Team '93 Germany and '95 Sweden, US record holder in the 15k